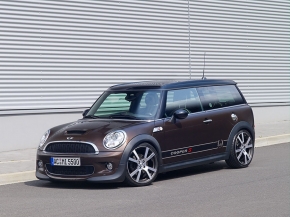 With the recent launch of the Mini Clubman, AC Schnitzer decided that they would make the weird delivery wagon looking mini better. That's probably the reason behind the classic UPS brown finish.
AC Schnitzer Says:
The name "MINI" says it all: Physically, the Clubman is not one of the biggest out there, but it's got a bigger heart than any other estate. And now AC Schnitzer provides that final endorphin surge.
The bonnet with its striking power dome hides real muscle. After the AC Schnitzer performance training, the Cooper S develops 226 HP/ 166 kW and a torque of up to 285 Nm.
After the AC Schnitzer treatment the Diesel version of the Clubman has 100 kW / 136 HP instead of 80 kW / 110 HP. Gas and away! But with spirited driving, don't forget: secure your load first!
An optional limited slip differential (up to maximum 75 percent) ensures that the raw engine power is always applied to the right wheel when cornering and not lost through the exhaust.
Even the exhaust gas flow plays a dual role of utility and aesthetics: Not only does it drive the turbo, but the AC Schnitzer twin sports rear silencer plays an almost orchestral note. The musical masterpiece with its chromed tailpipes is also a top level eyecatcher.
The Suspension Technology
In terms of driving dynamics, the agile cornering master shouldn't be underestimated. Especially not when fitted with the AC Schnitzer spring kit or even the height-adjustable racing suspension made in Aachen. The subtle lowering flatters the well-honed figure of the Clubman.
The Wheels
Two sporting wheel designs, the Mi1 in the classic AC Schnitzer look in 7.5J x 17″ and the brand-new Bicolor wheel Mi2 in 7.5 x18″ are already available for the Clubman.
Mi2 light alloy wheel
The new AC Schnitzer Mi2 BiColor alloy, with its ultramodern styling combined with the highest standards in materials, production methods and driving dynamics, is now available as a one-piece variant for all MINI vehicles.
Naturally the new Mi2 BiColor wheel generation fits the current and the antecessor MINI vehicles. For tyres, we recommend high performance tyres from Continental and Michelin in size 215/35 R 18 or optionally in 205/40 R 18.