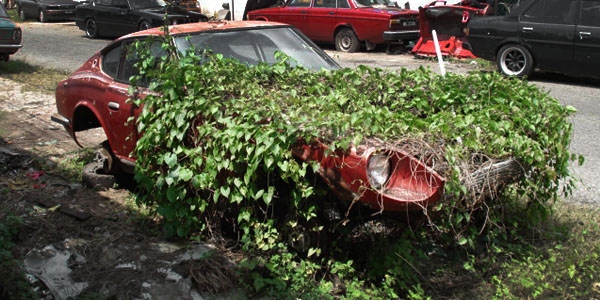 Tony5050, a major performance car nut, once had an Evo4 engine shoehorned into a Hyundai Coupe many years back when people were just starting to buy them. He's been busy with a different challenge recently.  a 35year old Nissan 240Z which he picked up abandoned by the road -for a price. Not your idea of a Fairlady? With majority of what's needed sorted, he's completing the 240Z project really soon. Here are snippets of the Chronicles of Tony's 240Z.
06-11-2007, 02:36 PM

guys..

she is a 240z and she is now 35 years old..
luckily tht the previous owner stripped her off before leaving her beside the street for blardy 8 years.
here are some photos….
so…she got a new boyfren now hey..!
and she suppose to look like this in 3 months time…ta da!!
02-19-2008, 03:23 PM

hi guys,

finally confirm wht shoes she will wear when she first done…this is the front and rear..but problem is one pair with chrome lips the other not..can it polish it or something??..need advice..

front 15″ x 9.5jj offset -25
rear 15″ x 11.5jj offset -44
05-04-2008, 01:32 AM

its been ages and finally the body restoration work is almost fully done. The car is now having its outer surface work, ready for paint next week.

Decided to finish her up as a ZG now though.

Will post more a week or 2 from now with the body colour. Thanks
11-20-2008, 04:09 PM

hi guys,

as promised, these are some photos i took last weekend. Finished wiring and now in acc shop for interior. cheers
For more on this go to his Thread Here:
Project " Saving the Old Lady "