With the launch of the Accord over and done with, the only other thing left to to do with the Accord was to drive it and Honda provided us just that the very next day after the launch. Yes, very sweet indeed and a big thank you to them. Kuantan was the location and by air we went, the drive back was scheduled for the next day and with over 300kms to cover over highways and some curvy mountain roads, it promised to be an immensely entertaining ride back even with 3 other drivers to share the ride with; great company.
Exterior Design
Now the all-new 2008 Accord isn't the best looking cars around but don't get me wrong, I'm not saying its ugly like how a Proton Juara is just outright ugly, it's definitely attractive enough to win over some hearts, it just didn't win mine. I found the design language to be too typical of today's auto industry. The key phrase for the Accord (Ambition Has No Limits) hails it as a luxury sedan that presents a "polished yet polite challenge to all contenders in the premium category". Why the need to be polite and polished? Could it be translated to mean that the Accord does borrow some visual cues and that it could just be a polished version of its competition? We know very well that the designers at Honda capable of penning jaw-dropping cars so I find the design language of the Accord to portray Honda as if it has relinquished its post as class leader and settled into P2.
Honda describes its design language as sharp and stylish; " a sharp-edged design with pronounced and muscular wheel-arches, a distinctive nose and long, flowing lines that form a taut and athletic shape. Doesn't that sound like the BMW 5-Series? But don't let my moaning put you off, the design is a working system of efficient aerodynamics that when combined with the Accords flat bottom, it actually works to improve fuel mileage and reduces interior noise from undercarriage air turbulence. A spin off from Honda's involvement in F1? Could very well be. That and the fact that the nose is designed to protect a pedestrian in the case of a crash, even the wiper pivots are designed to break away to minimize pedestrian injury. Seems like research and design has also been taking a Formula 1 like obsession to it, which is a good thing.
At first glance, the headlights looked like rounded off versions of the 2005 Hyundai Sonata. Coincidence? Maybe but the sweeping shoulder line definitely is not. Yes it was there on the previous generation Accord as well but perhaps not as pronounced and striking as it is now. Try doing a Google image search for the new Merc C-class or the BMW E90, don't they seem oddly similar? With the Accord being the latest to be launched, it would seem once again as a follower but maybe there's a reason behind all this. All three cars have high door lines and the sweeping line gives it a "taut and athletic shape", without it the side of the car would just look too boring. Amazing how a shallow consistent dent in the metal that takes the form of a simple line can play tricks with your eyes.
The flattened out wheel arches are something that the Honda designers totally thought about themselves, in fact they thought about it a long time ago, it is definitely a carry forward from the previous generation Accord. A lack of design ideas or just a case of "if it works, doesn't fix it"? Well it definitely suits the car, so it must be the latter. The rear end is fine; in fact it looks pretty good but those reflectors in between the number plate and brake lights seem oddly out of place and they should really go, Honda, I know you're reading this.
Interior
Just like Accords of old, the interior is a pleasant place to be in, its comfortable roomy, and seats four business class style. In fact, there were four of us in the ride back to KL and we're not exactly vertically challenged but yet we were comfortable. Plenty of leg room at the back of the drivers seat for me and that's with the driver comfortably in his driving position, impressive.
But I must continue moaning about other things starting from that plastic thing that feels like rubber on the dash. I apologise for the lack of descriptive skills but I seriously can't figure out what it is or why it is there in the first place. It gives the Accord a cheap interior feel and with the Civic-ness of the center console, it just doesn't seem to justify the price tag, both the 2,0 and 2.4 models have that "plastic thing that feels like rubber".
The plastic inserts on the gear knob and steering wheel as well as the plastic door handles look as if they have been spray painted silver but they look alright visually but they definitely will not age with grace. After all those sweaty palms and god knows what else, some paint is bound to be chipped off, giving the interior of the car a deceptively aged look.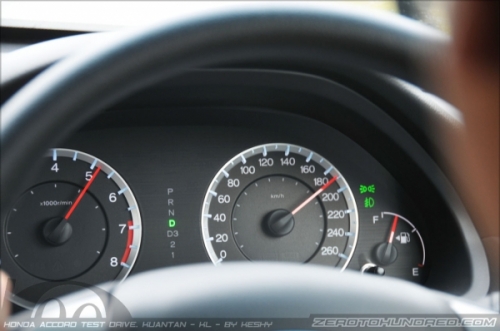 The meters look good and are the read outs are clear, dials are kept to a minimum in an effort to keep fatigue to a minimum. They light up in blue and look similar to the previous generation Accord, sadly it is when the meters light up do they look very empty and neglected.
Performance
Let's be very clear about something first, the Honda Accord is a luxury cruiser meant to ferry four people around in comfort, safety and style. It is by no means a car that can shove you into your seat while you struggle to comprehend what is going on, neither is a car that rewards you with massive power slides (it's a FWD) or the cushioning of understeer when driven at the limit, in fact the limit should be never be sought because this car is not meant to do that, it's a luxury cruiser, it wafts, it doesn't attack tarmac.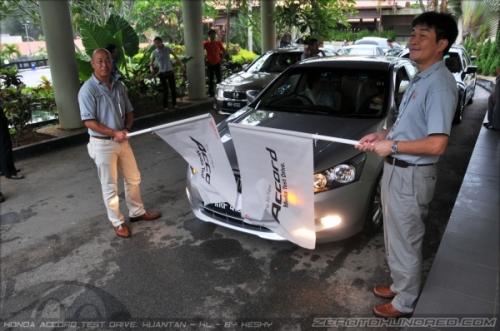 Get in, get moving and the first thing you notice is how light the steering is, that is all good as you make your way past traffic and around city blocks but get on a highway or around mountain rounds and things start to get a little confusing, unnerving really. The lightness continuous as you make your past the century mark and surprisingly it still remains past the 140km/h mark. See, I was expecting speed sensitive steering so I was little taken aback when the steering didn't beef up but that's all good, its just that when it was my turn to take the wheel, I was presented with superb roads that could easily test the balance, responses and the drivability of the car, and so I did.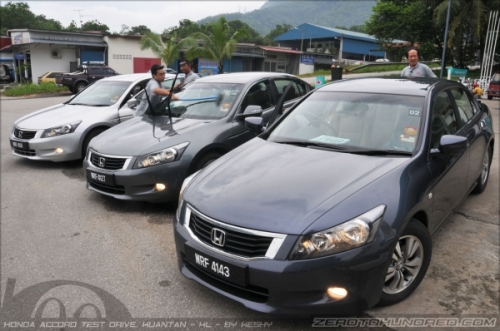 That's basically why I was almost always at odds with the lightness through bends when heavier steering is a prerequisite for winding roads which every driver faces in his driving years whether on intention or not, so the car should be prepared to perform at the best of its capability. Speed sensitive steering might be a expensive option but there's always the blissful steering that is somewhere in between light and heavy, just how they were in BMWs before speed sensitive steering was discovered. Heavier steering equals greater confidence and a more stable ride, I often found myself adjusting the steering and reeling in moments of understeering nirvana. Lighter steering cars are known for their numbness and lack of feedback from the road and tires. But then again, this is a 'wafter', and chances are it will never be driven in anger.
The engine, the acceleration, the torque? Well, lets just say that Honda's keyword "Advanced & Powerful" should not be taken literally. Advanced surely and maybe powerful looking, just not powerful in its literal form. The 2 liter is predictably lacking in the overall package but to be blunt even the 2.4 feels under-powered but to be fair to it, I only drove it for about 20 minutes meaning I had very little time to actually test it, but we'll be getting to test it soon again.
The 2 liter engine is good for a max output of 156PS which is achieved at 6,300rpm's with max torque of 189Nm, so don't expect a cracker but you'll find it to be a pleasant buy for city or town use and speed limit adhering highway cruising. The 2.4 liter engine is graced with a max power output of 180PS@6,500rpm and with a max torque output of 222Nm@4,300rpm. Sounds good don't it? Good for city driving and highway cruising and the occasional spirited driving up Genting, but sadly its all an illusion for the 2.4 is left wanting in the engine department, more on that in a different feature.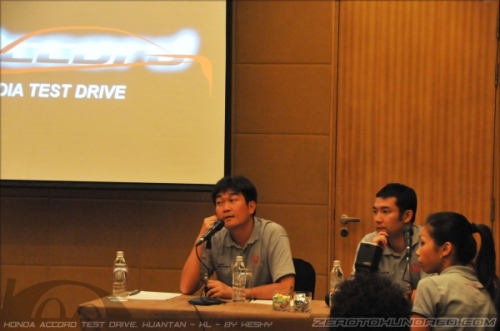 Well, the all-new Honda Accord is admittedly impressive when it sets out to do what its meant to do. Visually it may not be striking or original, but it surely points out the direction Honda is taking with all its new cars and that is to create a revolutionary vehicle with an upscale shift to a significantly more refined, dynamic and sophisticated direction and that is exactly what has been achieved with the new Accord. Why was I complaining so much? It's all those cars with turbo's and 300+hp and under 5 seconds century sprints, I've been spoilt, time to waft around in a luxury cruiser for a while and we've been given the chance to do exactly that everyday for a week, check out the feature in 2 weeks.
More Pictures in the gallery. Click any thumbnail to access